---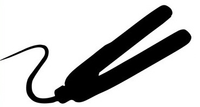 Standard GHD or C9 repairs
for models; ghd MK3, 3.1b, SS, SS2, MS, 4.0, 4.1, 4.2, SS4.0, MS4.0, 5.0, SS5.0, MS5.0. Cloud Nine T1.0, M1.0, M1.1, M1.2, L1.0, L1.1, L1.2,
This service includes all parts and labour, PAT testing and a 6 month guarantee. This service excludes a replacement body/plastic casings.
Please send the straighteners to us; Ion Originals Ltd, Unit 6i Greensfield Court, Alnwick, NE66 2DE 
We recommend using a tracked delivery service and please retain proof of postage. 
Please include your order number and your contact details and we will repair and return them within 48hrs!
Please note: We are unable to repair Fake ghd's and the following ghd products; Eclipse (6.0), Gold S7N261, S7N421 and Platinum + S8T262, Hairdryers or Curve Collection. Customers will be charged for return postage only if they do not choose another option.